Name: Leone/Hrist Valkyrie
Sex: Female
Species: Valkyrie
Height: 6'2"
Weight: 160 lbs
Age: Appears 25
Hair Color: Black
Eye Color: Blue
Skin Color: Slightly Tannes
Personality:
Eldest of the three Valkyrie sisters, Hrist is a staunch loyalist to Odin that sometimes disregards the will of mortals entirely. She is a ruthless warrior on the field of battle who does not take prisoners, and enjoys the thrill of battle to an almost uncomfortable degree. Regardless, Hrist is fiercely loyal still to her sisters, and to her einherjar...perhaps even to a higher degree.
Leone is effectively her human guise, much like how Meryl is Lenneth's. Leone's trade isn't far-flung from Hrist's, however. She works as a mercenary, and tends to be quite collected and understanding under this guise. One can wonder if they are truly the same person.
Weakness: Her fierce loyalty and resolve sometimes causes her to leap before she looks.
Profession: Valkyrie
Weapons:
Hildr's Sword - Sword forged for Hrist to enforce Odin's will and hunt the souls of heroes to carry them to Valhalla. Deals +1 CS damage. Hrist uses this sword while under Leone's guise.
Saint's Halberd - A holy lance that serves as Hrist's signature weapon. +1 CS fighting on offense, -1 CS on defense. Deals additional +1 CS damage to those weak vs holy. Used only when revealing herself as Hrist.
Armor:
Mythril Plate - Banded Mail Armor. Good protection from all physical attacks. Immune to non-firearm ranged attacks unless it's a called strike. Restrictions: Agility type 2.
Items:
Skills:
Sharp Weapons(+1 CS to use of sharp weapons)
Resist Domination - The person has an unusually strong mind, and is more able to resist mind magic attacks. +1 psyche to defense against these attacks.
Leadership - Expert at leading groups of people into situations. Can in certain situations apply a +1CS to others in a skill he or she has for a limited time.
Negotiator - +1 CS to reasoning
Description and/or Picture: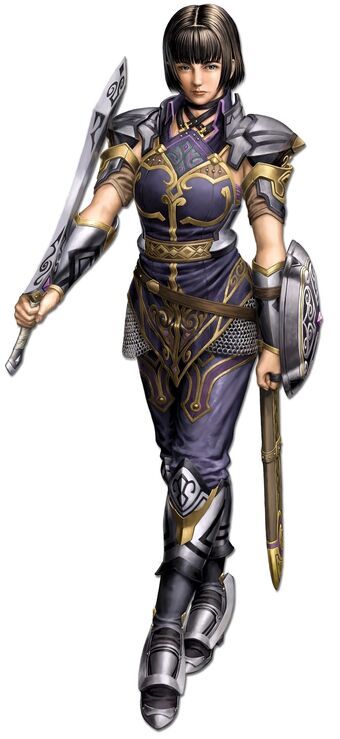 Stats:
Fighting: Remarkable
Agility: Excellent
Strength: Remarkable
Endurance: Incredible
Reasoning: Good
Intuition: Excellent
Psyche: Remarkable
Hit Points: 120
Mana: 60
skill Points: 90
Spells / Special Abilities:
Victory Manipulation(Level 1)
Cost: 20mp
Uses: None
Description: Valkyries have the ability to alter the course of battle. Once per day, they can either increase one attack or defense roll of an ally by 2CS, OR make them reroll a roll, with the higher of the two counting. The altered roll can NOT be a botch, if one is rolled it must be rerolled.
Flight
Cost: 3 MP per round
Uses: None
Description: Valkyries have ethereal wings they can summon at will. Enables flight at excellent speed(90 mph).
Teleportation
Cost: 5 MP (5 additional MP for each additional passenger, up to 3.)
Uses: Psyche
Effect: Allows Hrist and as many as 3 others to teleport to a place she has been to before. Teleportation range is within the same world.
Biography:
Eldest of the three Valkyrie sisters, Hrist Valkyrie has a history with Brahms, lord of the undead and chief enemy of Odin's. Long ago, she fought Brahms with Arngrim as her einherjar, a battle in which her sister Silmeria was captured by Brahms. After the history she had made there, Odin had decided to choose Lenneth for the task of recruiting einherjar for Ragnarok, and Hrist's soul was made to lay dormant within a mortal of Midgard.
Caled in due time to replace Lenneth some time afterwards, she once again faced Brahms and lost, her vessel used to revive Lenneth as her soul was sent back to Asgard. When it was learned that Silmeria dwelled in Midgard within the body of a secluded princess named Alicia, Hrist attacked the manor and tried to kill Alicia. With Silmeria's help, Alicia made her escape and Hrist issued a dire warning.
"You would disobey Odin to your last breath, sister...but be warned. Dipan will not be spared."
It was then that Hrist began to assume the appearance of a mercenary named Leone, and finally begin to see how mortals truly lived.