Name: Meryl/Lenneth Valkyrie
Sex: Female
Species: Aesir
Height: 5'11"
Weight: 150 lbs
Age: Appears 23
Hair Color: Silver
Eye Color: Blue
Skin Color: Slightly Tanned
Personality: Lenneth has a heart of kindness, and does not hold humanity in contempt as most Aesir do...but to her enemies, she is merciless and bears a firm, powerful resolve.  She particularly despises manipulators and those who violate the dead.
Weakness: As the middle sister of the valkyries, Lenneth tends to be more pensive than her sisters when it comes to contemplating her sympathy for humans.  At times her empathy can leave her somewhat hesitant.
Profession: Battle Maiden/Chooser of the Slain
Weapons:
Randgrid's Blade - A sword forged and named after she of the shield truce, it is made to dispel all darkness.  Deals +1 CS damage normally, and an additional poor damage to beings aligned with darkness.
Crescent Longbow - A longbow said to be shaped from a sacred tree from Alfheim, it aligns arrows to the lightning element on command.  Deals +0 CS damage normally, and +1 CS damage to beings weak against lightning.
Armor:
Azure Armor - Scale armor that provides good protection vs physical attacks, except piercing(typical).  Provides poor protection vs darkness magic.
Items:
Skills:
Swordsmanship(+1 CS to sword-related rolls)
Archery(+1 CS to archery rolls)
Clairvoyance - This is a little different from how it's listed on the forums.  Lenneth, being a Valkyrie, has the ability to sense and hear the cries of a worthy soul facing their death, to recruit as an einherjar to Asgard.
Mystic & Occult Lore(+1 CS to reasoning for researching & understanding magic and demonic/angelic histories)
Leadership(Can lead groups into situations.  Sometimes grants +1 CS to others in a skill s/he has for a limited time.)
Description and/or Picture: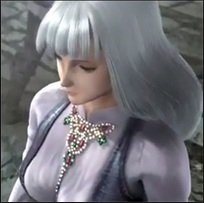 Stats:
Fighting: Remarkable
Agility: Excellent
Strength: Excellent
Endurance: Incredible
Reasoning: Excellent
Intuition: Excellent
Psyche: Remarkable
Hit Points: 110
Mana: 70
Skill Points: 90
Spells / Special Abilities:
Victory Manipulation(Level 1)
Cost: 20mp
Uses: None
Description: Valkyries have the ability to alter the course of battle. Once per day, they can either increase one attack or defense roll of an ally by 2CS, OR make them reroll a roll, with the higher of the two counting. The altered roll can NOT be a botch, if one is rolled it must be rerolled.
Flight
Cost: 3 MP per round
Uses: None
Description: Valkyries have ethereal wings they can summon at will.  Enables flight at excellent speed(90 mph).
Transformation
Cost: 0
Uses: N/A
Description: When Lenneth descends upon a town or city, she often adopts the guise of a woman named Meryl, a more plain-seeming and unassuming woman who better blends into society, though still shares some of Lenneth's physical features, like her hair and eyes.  She can still wield the Valkyrie's powers in this form (except for flight) though this guise is shed when she calls her armor and weapons to her.  (To be clear, Lenneth's -default- form is the Valkyrie, and Meryl is the transformation.)
Nibelung Valesti
Cost: 20 SP
Uses: N/A
Description: After Lenneth has successfully landed a total of 10 hits in battle, her next combo may have 1 extra attack (treat as +1CS on this attack only), and the elemental damage on that weapon for that combo is upgraded +1 CS.
Cure
Cost: 5 MP
Uses: Psyche on learning, none otherwise.
Description: Heals an amount equal to Psyche -2CS in hp or 6hp, whichever is greater.
Cura
Cost: 10 MP
Uses: Psyche on learning, none otherwise.
Description: Heals an amount equal to Psyche -1CS in hp or 10hp, whichever is greater. Also removes Burn and Frostbite
Thunder
Cost: 5 MP
Uses: Psyche
Description: Does damage equal to casters Psyche -2CS. Agility to dodge.
Biography:
To Odin's appointment were a trio of goddesses...the three valkyries, made to govern fate.  Lenneth is the middle sister of the three, the others being Hrist(eldest) and Silmeria(youngest).  It is generally forbidden for two of these valkyries to be on the same plane simultaneously, though Lenneth otherwise resides in Asgard till she is summoned to do Odin's bidding.  Such a bidding is a rare occurence, and Lenneth is otherwise occupied with her duty as battle maiden, though Odin eventually does summon her directly in an urgent, pressing matter.  Sensing the time of Ragnarok is nigh, the Aesir king commanded Lenneth to heighten her recruitment of worthy souls for Valhalla, to recruit worthy heroes for the coming war that was said would wipe out the gods themselves, between the Aesir and the Vanir.
Lenneth, however, in the process, had her memories sealed off, for she was once upon Midgard under the guise of a woman named Platina, a young lady who fled her hometown with a young man named Lucian to escape being sold to slavers in Gerabellum.  In their flight, they ran aimlessly, and soon came across a field known as the Weeping Lily Meadow, known for its flowers that bore a deadly pollen.  As a breeze swept through the floral plain, the pollen lifted into the air, and Platina was poisoned by the pollen, eventually dying as Lucian then fled and wept.  It was not long thereafter, that Lenneth had been summoned by Odin's command.
Lenneth then served two primary purposes.  The first, was to recruit and train einherjar for their battles in Ragnarok.  The second, was to delve into ancient caverns and ruins, and purify the land of dark blights and beasts.  When entering a town or city after hearing the call of a potential einherjar, she assumes the guise of a human woman named Meryl, and keeps her distance till she finds the fallen warrior.  Her human appearance isn't far-flung from her true appearance, though she does keep a more plain appearance when in her glamour-induced guise.