Character Concept: A Half-Dragon, Half-Celestial (Angel) character concept that has the ability to choose between "embracing" her Celestial heritage for a boost in magical (Light) capabilities (think an arcane archer class), or her Dragon heritage for a boost in physical capabilities. This ability will be outlined more fully in the Spells/Special Abilities section (once I get to it), but her ability to choose between the two, if a choice is made at all, may only be executed once per day, or as directed by a GM in future renditions/tweaks of this character. If she is forced back into her base form, either naturally by will or forcefully, her MP is automatically set to zero and she will not be able to access another form for 24 hours.
Name:
Ailana "Lucy" Lucille
Sex:
Female
Species:
"Celestial" or "Heavenly" Dragon
Height:
Anthro: 7'5"
Celestial: 6'5"
Dragon: 25 feet tall by 30 feet long
Weight:
Anthro: 240 lbs
Celestial: 180 lbs
Dragon: Around 20 tons
Age:
Around 2500
Age in appearance:
Young, perhaps mid-thirties.
Hair Color:
Pearlescent in nature with subtle shifts between midnight blue and azure white, depending on the light source.
Eye Color:
Orchid in Celestial and Anthro form. Bright gold in Dragon form.
Skin Color:
White in Celestial form. Light blue-gray in Anthro form.
Personality:
In one word, Ailana could be accurately described as "noble", both as a place of high origin as well as a character trait. She often puts forth a calm, cool, and collected demeanor, but an unquenchable fire burns underneath that cool exterior-- a desire to prove her worth in the eyes of the impossible. Despite being somewhat of an outcast, Ailana is fiercely proud of her dual heritage and is just as fiercely loyal and protective to those who might prove themselves as a friend. She is very slow to anger, opting to negotiate or otherwise diffuse problematic situations before it escalates into violence. Despite her rather tame temperment, Ailana's desire to prove herself can-- and has-- gotten her into some serious trouble in the past as she sometimes bites off more than she can chew in the heat of the moment. Still, she means well and will stand up for herself and others if she believes it was the right thing to do.
Weakness:
Weapons specifically designed to counter dragons apply to all forms-- even her Celestial form. Devices, area-of-effects, or other methods that might cut off or otherwise disrupt Ailana's tether to magic. Being a creature born and bound by Light, experienced users of Dark magic are quite dangerous. Her wings, present in all forms, are not quite as robust as traditional, scaled dragon wings and could be targeted as a general weakness. Swimming and bodies of water in general will cause her to sink if her wings get waterlogged, especially in Dragon form. Her sense of duty and desire to protect others can also be exploited by individuals who know a little bit about her.
Profession:
Noble. Defender. Guardian of the Stars. Currently an adventurer to offer her services to other worlds as a sort of trial or pilgrimage.
Weapons:
Ailana's main weapon is her enchanted recurve bow that doubles as a magical focus in her Celestial form. Holdable chakrams for melee or throwable weapons. Teeth, claws, and tail in her Anthro and Dragon form.
Armor:
Other than her natural armor that might come from her scales in Anthro form, Ailana might sport something easy and lightweight like leather to keep from being encumbered. Something more ornate, yet similar in function and weight while in Celestial form. Hardened scales in her Dragon form.
Items:
Various trinkets, bobbles, and jewelry. One piece in particular-- a purple pendant-- she keeps close to her at all times.
Skills:
Bows - +1 CS to Agility.
Aerial Combat - +1 to Fighting against flying opponents. Must have some way of flying to use.
Mystic and Occult Lore - +1 CS to reasoning for researching or understanding magic and demonic or angelic histories, including telling which is truth and which is fiction.
Weaponsmith - Skilled with the creation of weapons. +1 CS to reasoning.
Resist Domination - The person has an unusually strong mind, and is more able to resist mind magic attacks. +1 psyche to defense against these attacks.
Languages:
Literate and fluent in Common. Can understand Draconic, but can't speak it very well unless she's in her Dragon form. Can understand Celestial (Angelic?), but can't speak it at all.
Description and/or Picture:Anthro (Base) Form: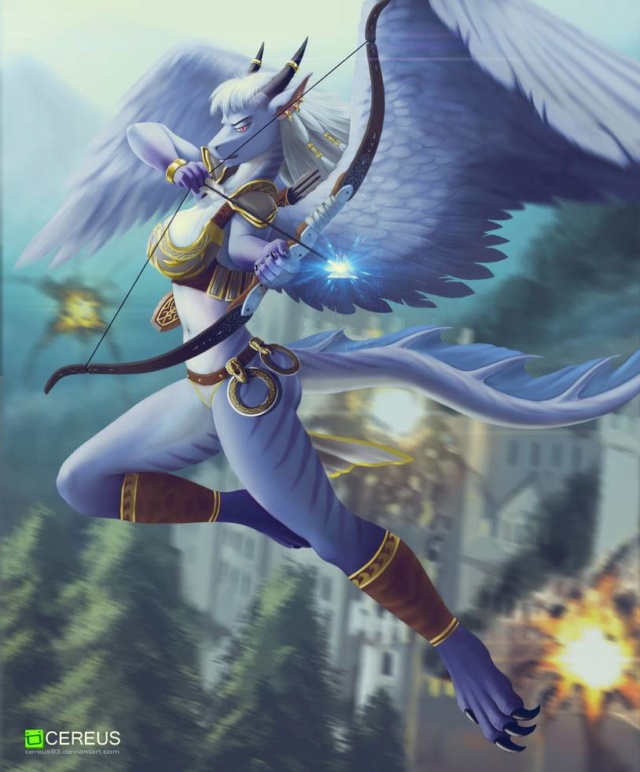 Celestial Form:
Dragon Form:
Stats:
Anthro (Base) Form / Celestial (Magic) Form / Dragon (Physical) Form
Fighting:
 Excellent (Remarkable with the Bow) / Excellent (Remarkable with the Bow) / Remarkable
Agility:
  Remarkable / Remarkable / Remarkable
Strength:
 Excellent / Good / Incredible
Endurance:
Excellent / Good / Incredible
Reasoning:
Excellent / Excellent / Excellent
Intuition:
Excellent / Remarkable / Excellent
Psyche:
   Excellent / Incredible / Excellent
Hit Points:
90 / 70 / 140
Stamina Points:
75
Mana:
60 / 90
Flying Speed:
Excellent / Excellent / Remarkable
Swimming Speed:
Boulder / Boulder / Two-Anchors-Tangled-Together
Spells / Special Abilities:Embrace
Cost: N/A
Uses: N/A
Description: Once per day, Ailana may choose to "embrace" either her mother's Celestial heritage to gain access to more powerful magicks at the cost of losing her robust physicality, or her father's Draconic heritage to gain access to raw, physical prowess at the cost of losing her magical abilities. Unless done outside of combat, this ability takes a combat action-- she cannot transform and act on the same turn. If Ailana is forced back into her base form, whether that be willingly or forcefully, her MP will be automatically set to zero and she will not be able to access either form for 24 hours.
First Circle (Only First Circle spells can be used by both Base and Celestial form):Attunement ( Light )
Cost: 5mp per target
Uses: Psyche if needed ( See below )
Description: Aligns a weapon with light energy, allowing the wielder to target magical creatures such as heartless, shadows and other creatures that cannot be harmed with a normal weapon. Allow gives a short term bonus of +1cs to fighting, as well as +1cs damage to darkness-aligned creatures only, for 2 rounds. As the weapon glows dimly for the bonus period, it incurs a -1cs penalty to sneak and hide. Can target 1 weapon for every circle of magic the caster knows. Can also be used to realign a weapon from Darkness to Light, but a yellow roll is required to do so.
Ball of Light
Cost: 5MP
Uses: None
Description: Allows the caster to summon a ball of light that allows vision in dark areas up to 5 feet away. The ball can be stationary or made to follow the caster. Lasts 1 hour for every circle of magic the caster knows, and can create one ball for every circle of magic per casting.
Second Circle ( Second Circle spells and up may only be used in Celestial form):Flare
Cost: 10 MP
Uses: Psyche
Description: Creates a large blast of light in front of two opponents. Targets roll agility or intuition, whichever is lower. If the spell is successful, target is stunned for 1 round or until they get struck.
Third Circle:Moonlight
Cost: 10 MP
Uses: Agility or Psyche ( Whichever is higher ) only on attack
Prerequisite: Ball of Light
Description: Creates a ball of light of a color of caster's choice that floats around you giving a pale light in the nearby area. At the caster's command can be fired at a target who rolls agility to avoid. If the attack is successful, deal Good cold damage, or Remarkable if targeting undead or shadows.
- the caster can have up to their highest circle active at once ( casting one per round ), and can fire them off in consecutive attacks ( following normal multiple hit rules )
Biography:
WIP