Name: Meenah
Sex: Female
Species: Kodragon
Height: 2'
Weight: 20lbs
Age: 200
Hair Color: Pink with a brown stripe
Eye Color: Gold/red
Personality: Curious.  Meenah loves finding new foods to try, games to play and people to meet.  She has a child-like fascination with anything shiny and goes out of her way to avoid conflict, preferring to fly about and hunt for new friends.
Weakness: Short attention span, her size, the fact she wears no armor, her size, and the attitude toward life commonly exhibited by ferrets at play.
Profession: None
Weapons: Claws and Teeth
Armor: None
Items: None
Skills: Aerial combat,  Escape artist, stealth, Astral projection, Mystic/Occult lore
Astral Projection – Being a dragon of the Astral Plane, Meenah is familiar with higher forms of meditation.  While "Taking a nap" she can project her consciousness and explore for a decent distance.
Picture: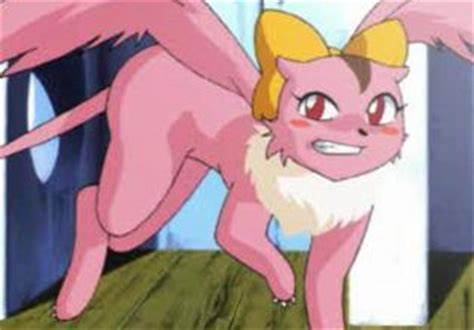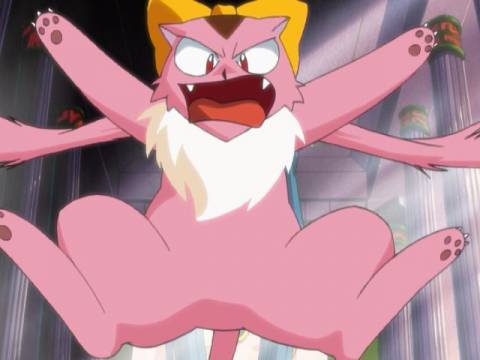 Stats:
Fighting: Poor - 4
Agility: Amazing - 50
Strength: Poor - 4
Endurance: Excellent - 20
Reasoning: Poor - 4
Intuition: Incredible - 40
Psyche: Remarkable - 30
Hit Points: 78
Mana: 74
OPTIONAL: Only include this section if it is different then normal
Flying Speed: Excellent ( 61 - 90 MPH ) Maximum limit 50lb. Anything beyond that she'd be decending more then flying, but she could handle a bit more then that without just dropping like a rock.
Spells / Special Abilities -
Flight – Without much difficulty, Meenah can spread her wings two feet to either side of her and lift off in to the air. Her long tail is used for balance and steering while her legs tuck close to her when she wants to increase speed.
Shrink Breath
Cost: 10MP
Uses: Agility
Description: One of the few things Meenah can do to defend herself is shrink her enemy by up to 5% of their size with one of her breath breath weapons.  Opening wide, like a yawn, a sudden spray of mist erupts from her mouth in to a cloud of green and pink smoke.  Whatever this smoke envelopes suffers the consequences unless protected against it, or if the mist is dispersed or otherwise avoided. Effect: -1 fighting and strength for 1d4 rounds. Due to being smaller, they gain +1cs vs ranged attacks. Roll psyche or agility to defend, whichever is higher.
Growth Breath
Cost: 10MP
Uses: Agility
Description: To counter the effects of her shrink breath, just in case it's one of her friends that gets shrunk, a similar affect is generated only the colors of the "mist" are blue and red.  This reverses the previous change in size and can also be easily applied to make something larger, such as a piece of fruit or fish for eating. Effect: +1 fighting and strength for 1d4 rounds. Due to being larger, they suffer -1cs vs ranged attacks. Roll psyche or agility to defend, whichever is higher.
Teleportation
Cost: 10MP
Uses: Psyche
Description:  Every now and then, when left with no option of flight, Meenah can teleport a short range.  Despite its obvious advantages, it's a hated thing to be done since she is agile enough to usually find her way in to the air if there is trouble and fight from there.
Cure
Cost: 5MP
Uses: Psyche on learning, none otherwise.
Description: Heals an amount equal to Psyche -2CS in hp or 6hp, whichever is greater.
Biography:
Meenah awoke, nearly the size she is now, as she spent most of her years alive. Alone. She was in the astral plane, a universe between the planes of life and death. Knowing naught but this place as home she spent her formative years poking around and testing things out.
What happened when she dove through a sleeping dreamer. What happened when she dove in to the water of the reverse world? What sounds could she make? How big was she in relation to the universe? She set out to answer all these questions. She flew headlong in to mountains and did dance-like steps through walls, gradually mastering the skill so well she could fly around the whole world at breakneck speed and not crash in to anything. It was during this exploration of self that she wound up breaking her world.
She'd never seen fish before. Or a human. Or a boat. Or a net. But while poking at a particularly potent bubble she stumbled accross she was torn from her world and thrown head-long in to this new one. The colors weren't vibrant. The air smelled gross and everything was really quiet. She emerged from the portal in a fishing village. It seemed like a nice place! The humans who lived there were busy, doing so many things at once it made her dizzy. The only thing that was more fascinating than the people were the stalls of food. Needless to stay, the out of place dragon made all sorts of ruckus. Diving through bins of fish and venison, she ate and ate and ate! Until she poked her head up at two men hurrying over to her with a bag! She tossed two apples, two bunches of bananas and was heading to kick a rack of ribs in until everything got really dark.
This time when she woke up, she was in a very small room with a cuff around her middle. She wasn't sure what to do but she knew she couldn't stay there. She'd tense up and focus, thinking of the bright pinks and greens of her home. The air disappeared, the wind disappeared, the sound disappeared.. All of reality was light and what reflected on it. Twisting her body around, she squeezed almost fully around before stretching out and looking around with a grin. She remembered the feeling, the way she had to focus, what she had to angle which way to get the little movement down like a spell. Still cuffed, she focused again. *POOF* she was back in the cell. *POOF* she was on the astral plane, the cell redesigned and oddly shifting as if stuck bouncing between random states of use. *POOF* she was back in the cell. She'd laugh... and teleport, and laugh, and teleport... Eventually the disappearing and reappearing, and childlike laughter, attracted a few guards. The first one to unclasp her chains was never seen again.
She went back to the fishing village to study the people. The way they talked, how they treated each other, the way they worked and why. It was her favorite game. And due to the disappearing guard, she was feared. When they saw her in the market they ran and called for guards. When they saw her out over the water they thought she would sink them or steal them away to hell. Whatever it was they believed, life was a daily game of hide and seek. She hid, they sought, she scared them and flew off. Eventually they got more irritated than afraid.
Once they started hunting her again, she'd lead them out in to the deeper waters. Not a single cast net caught her. What they did, was flew over her when she teleported, and landed in the water. On top of the biggest school of fish they'd ever stumbled across. Then, they caught her again.
She was getting too old for this sort of nonsense. But as she was settling down one evening, she was given an opportunity to go be something on the Island. Hineo found her on the island, but it was her that found Jake. During one of her naps, she was picked up and purchased. By the time she woke, she had been tossed uncerimoniously on to a bed and left there. Mistaken for a stuffed toy. Once the differences were ironed out and she got used to the life of a house cat, things weren't so bad. She could come and go as she pleased, got to have humans make and buy her food, got to watch tv and cartoons for the first time...
They have gone on several adventures together thus far. Most notably, when they went to the desert world after falling in a hole. Jake looked like the crown prince and Meenah was arrested for kidnapping royalty.Ironically, that was where they got Meenah's first trinket, and aid from a very sad looking elven maid who seemed to be a caretaker of the royal family. Both maid and scepter came back with them. Since then she has been trying to train herself to be a dragon worthy of her rider, and she kept the bug situation at the house under control. Thus began her search for shinies, to hide in the cavern she found thanks to a black dragon on the island.