Name: Shiko Fellow Mei
Sex: F
Species: Anthro – Fox
Height: 4'10"
Weight: 90lb
Age: 32
Age in Appearance: Somewhere around 30 through 40
Hair/Fur Color: Orange
Eye Color: Light Brown
Skin Color: Fair/Pale
Personality: Uptight, Obedient. Follows orders and rules the way they are meant to be told. She usually doesn't care much about many things, and unless they effect her in some way or causes her own goals to be hindered, she usually just ignores them. Books intrigue her, and small talks are rather lovely. Isn't afraid to fight if really need be.
Weakness: Fears cats including those who bare cat-ears.
Profession: Dancer, Singer
Weapons: Knife
Armor: Clothing
Skills:
Stealth - +1 CS to Agility for moving in shadows or keeping silent to avoid people or sneak up on them. Certain situations may negate this ability.
Performer - A juggler, dancer, singer, and more apply under this skill. +1 CS to the stat used for that skill.
Description/Picture: A two legged anthro female fox dressed usually in a dark red or dark green kimono, depending on her mood for the day. Usually doesn't put on make-up besides a some powder to make herself look a bit younger. Alternates between wearing matching colored heels, sandals, and shoe-less.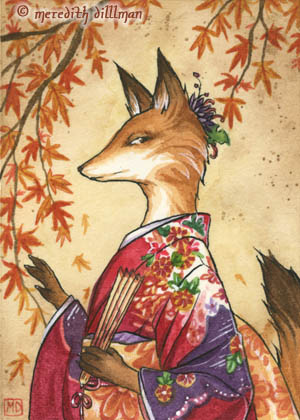 Stats:
Fighting: Typical
Agility: Good
Strength: Poor
Endurance: Typical
Reasoning: Excellent
Intuition: Good
Psyche: Excellent
Running: Typical
Swimming: Typical
HP: 26
MP: 50
SP: 38
Spells/Abilities:
Melody of Mobility
Cost: 2MP per target per round
Uses: Psyche
Description: +1 to Agility for defensive rolls to one ally on a green roll, three on yellow, five on red
Bio:
She born in a nearly Chinese society for nearly four years. As a child, she enjoyed watching and reading about dances who uses their talent to show beauty and passion about themselves and their lives. It was something that had always caught her eye, so when she moved to a more modern society, her life began to focus more along the lines of these movements. At first she took up ballet, though after hating the uniform that came with it, she decided to switch to a more traditional dance style. Mei never really found her favorite one yet, so she's still willing to change to anything else. Either way, her kitsune ancestry always caused her a bit of grief, both good and bad. Whenever she gets into a trance in her dances, she usually causes something to happen, which many had marketed on during her early years of her life. It gave her a rather obedient look upon others, following them as they leaded her to a better future… or so she thought at least.