Name: Tabitha Smith
Sex: F
Species: Human Mutant
Height: 5'5"
Weight: 122 lbs
Age: 20
Hair Color: Blonde
Eye Color: Blue
Skin Color: Fair
Personality: Tabitha has a bit of an explosive temper and doesn't tolerate being the victim of practical jokes, even if she is one to play them on others. Otherwise she is free spirited and friendly. She's also a kleptomaniac.
Weakness: Kleptomania, hot guys, food. She's also a ditz.
Profession: Unemployed, Former member of X-Force and Nextwave
Weapons: None
Armor: None
Items: None
Skills:
Thrown Weapons (Time Bombs) - +1 CS to Agility.
Crime - Applies Stealth, Espionage, Streetsmart, and Lockpicking. Counts as two skills
Description and/or Picture: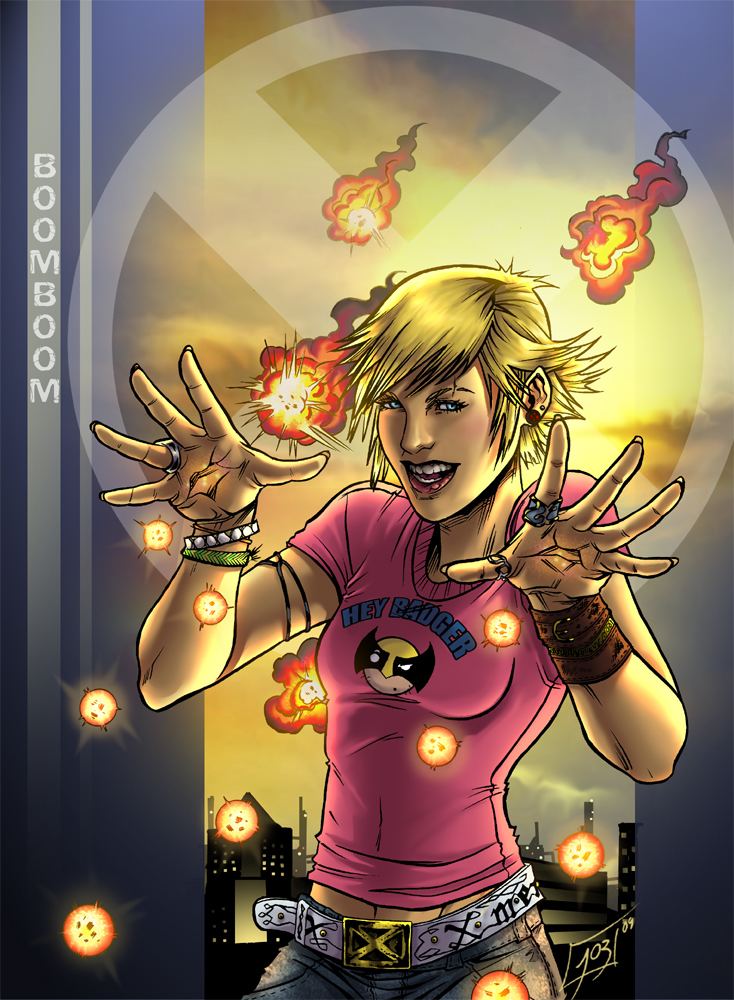 Stats:
Fighting: Typical
Agility: Remarkable
Strength: Typical
Endurance: Excellent
Reasoning: Typical
Intuition: Typical
Psyche: Good
Running Speed: Typical
Swimming Speed: Typical
Hit Points: 62
Mana: 22
Special Abilities:
Time Bombs:
Tabitha can create balls of plasma, which she calls her "time bombs." These "bombs" explode with concussive force. She can produce marble-sized "bombs" which have little concussive impact and which she uses for playing pranks. She has produced "time bombs" ranging up to the size of beach balls, which, when they explode, can smash tree trunks and even metal objects. The amount of concussive impact depends on the size of the bomb she creates, and she can, at least to some extent, control the amount of time until it detonates. After training with X-Factor and adventuring with X-Force, she has learned increasingly greater control over the energy she generates. She can now muffle the sound of the detonation to a limited extent and generate explosive energy as streams that respond to her thought directions. Now possessing greater control over her powers, she can even reabsorb the energy of non-detonated bombs and is no longer afraid to use her time bombs in nearly lethal ways.
Biography: