Name: Ashley J. Williams, "Ash"
Sex: M
Species: Human
Height: 6'1"
Weight: 200lbs
Age: 55
Hair Color: Black/Greying
Eye Color: Brown
Skin Color: Fair
Personality: Due to his experience with the Necronomicon, Ash has transformed from a friendly everyman to a cynical deadite killer. However, underneath all his personality flaws is a genuinely good person who will risk his life to save others and cares greatly about people, even if he spends most of his time insulting them.
Weakness: Ash has been through a lot involving his experience with the Necronomicon. While he has become more attuned to the tactics of evil, he's also slightly paranoid. He also only has one hand, the other doubling as a chainsaw augment or powerglove augment which must be switched manually.
Profession: Department Store Clerk (at times), The Chosen (current)
Weapons: Chainsaw, Boomstick (double-barrelled sawed off shotgun)
Armor: None
Items: Powerglove prosthetic hand, Necronomicon Ex Mortis
Skills:
Gunsmanship - +1 CS to Agility
Engineering
Chemistry
Mystic and Occult Lore - +1 CS to reasoning for researching or understanding magic and demonic or angelic histories, including telling which is truth and which is fiction.
Description and/or Picture: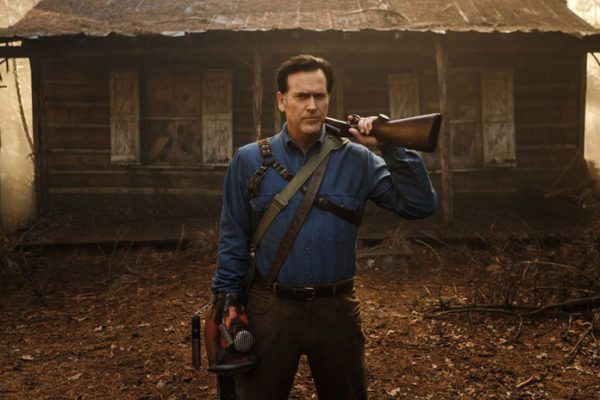 Stats:
Fighting: Remarkable
Agility: Remarkable
Strength: Good
Endurance: Remarkable
Reasoning: Excellent
Intuition: Excellent
Psyche: Good
Running Speed: Typical
Swimming Speed: Poor
Hit Points: 100
Mana: 50
Biography:
Necronomicon ex Mortis, The Book of the Dead. Bound in human flesh and inked in blood, this ancient Sumerian text contains bizarre burial rites, funerary incantations and demon resurrection passages. It was never meant for the world of the living.
I first encountered this book while visiting a cabin in the woods with my friends and my girlfriend, Linda. The book awoke something dark in the woods. This darkness took my friends. It took Linda, then it came after me. It got into my hand and it went bad, so I lopped it off at the wrist. I fought the evil in that cabin, only for a passage from that damn book to send me to the past. The year 1300 AD to be exact.
I had to find that book again, and fight the darkness, again. I could have stayed. They could have made me king. But I was sent back to the present.
Years later I found the book again, and I kept it. You know, to make sure some primitive screwhead didn't read from the book. I know, I know. It didn't work. The darkness came back and this time, it wasn't happy. It nearly took over the world.
Luckily I had backup. My new friends fashioned me a new hand and we went to town on those evil demonic bastards. Sadly, I lost them too. Like everyone else I care about. I've come to accept my role as the protector of this fucking book, and I only have one thing to say to anyone who says they want to take it from me: Groovy.