Name: Terry Bogard
Sex: M
Species: Human
Height: 6'0"
Weight: 181lbs
Age: 25
Hair Color: Blonde
Eye Color: Blue
Skin Color: Fair
Personality: Terry Bogard is an incredibly charismatic, cheerful and friendly man with everyone around him. He bears no ill will towards anyone other than Geese Howard, the killer of his adoptive father. Terry is also well-informed of what goes on in the streets.
Weakness: Terry has no formal education, due to his life on the streets. He also has the rare tendency to be arrogant and cocky during fights, even going as far as to be a sore loser.
He also really dislikes snails and cigarettes.
Profession: No official profession.
Weapons: None
Armor: None
Items: The clothes on his back.
Skills:
Acrobatics - Flips, cartwheels, somersaults, walking on hands, and so on.  +1 CS to Agility for use. Can be applied to aid in defending rolls by unarmed characters as long as it is not a crowded or cramped situation.
Streetsmart - Knows where to get information, how to get less then legally obtained items, how to speak to gangs.. may know someone in various criminals groups or even be in one. +1 CS to reasoning when dealing with them.
Martial Arts A - +1 CS to Fighting when opponent is unarmed as well
Martial Arts C - Normally unarmed opponents take a -1 CS to fighting when attacking someone with a weapon. This skill negates that penalty.
Terry also has the gift of accurately guessing a woman's measurements just by glancing at her.
Description and/or Picture: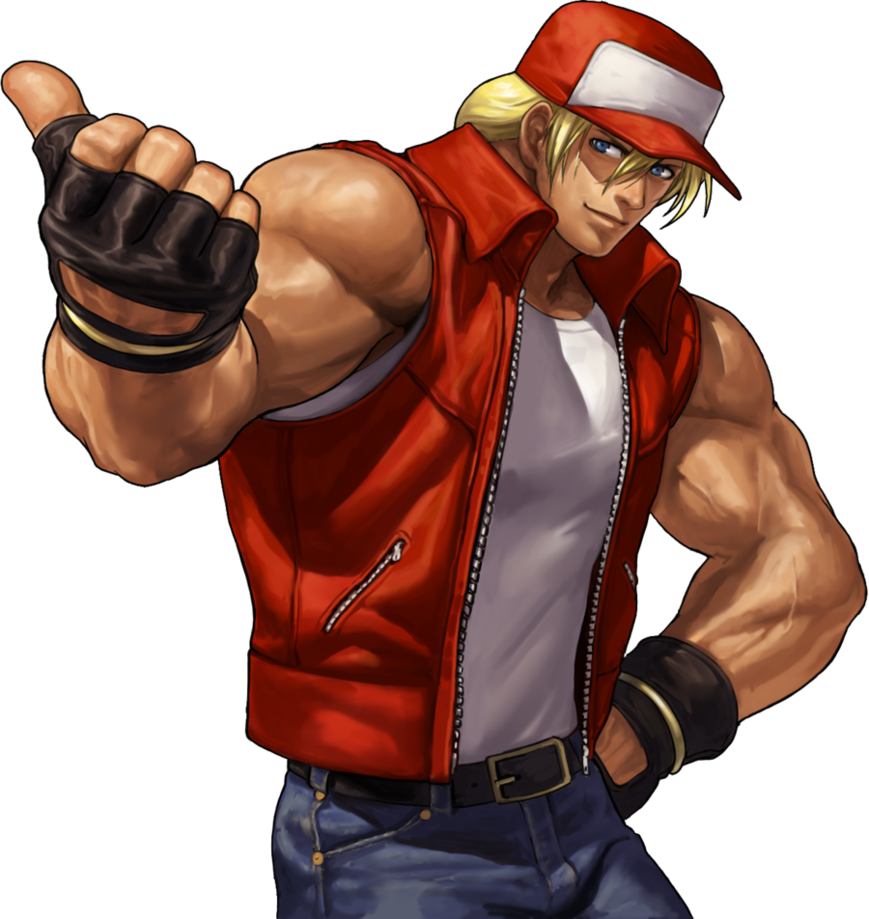 Stats:
Fighting: Incredible
Agility: Excellent
Strength: Good
Endurance: Excellent
Reasoning: Good
Intuition: Good
Psyche: Excellent
Hit Points: 90
SP: 65 ( Regains 3sp/round )
Mana: 40
Spells / Special Abilities:
Sense
Cost: N/A
Uses: Intuition
Description: Terry can sense the presence of people nearby. If he is to be the target of a pre-init attack, roll Intuition. On a yellow roll he can attack before the enemy does. On a red roll he also negates the enemy attack. Then normal combat init would begin.
Gather Chi
Cost: N/A
Uses: Psyche
Description: Terry can gather chi energy from Gaia, the mother-earth. On a white roll, regain 10 SP, on a green 20 SP and on a yellow 40 SP. This ability can only be used once an hour.
Power Wave
Cost: 10SP
Uses: Psyche
Description: Terry can fire a projectile of energy that travels through the ground. Target rolls agility to avoid. Deals excellent damage
Burn Knuckle
Cost: 10SP
Uses: Fighting
Description: Terry can surround his fist in energy to deliver a fierce punch. Opponents roll fighting to avoid. Deals an additional Good fire damage on contact, unaffected by roll color.
Crack Shoot
Cost: 20SP
Uses: Fighting
Description: Terry can surround his legs in energy and utilize it for a powerful jumping Axe kick. Adds +2CS to damage. Inflicts knockdown on any successful yellow roll.
Power Geyser: By punching the ground, Terry can make a more powerful version of the Power Wave, creating a massive geyser of energy coming from below the ground.
Biography:
Terry and Andy were orphans who raised themselves on the streets. They were soon adopted by Jeff Bogard and eventually lived in Southtown. When Terry was 10, he witnessed the death of his father at the hands of Geese Howard. Knowing that they needed more training to confront Geese, the brothers made an oath to spend a decade to fine tune their martial arts before trying to avenge their father. Unlike his brother Andy, who left Southtown to train in Japan, Terry chose to wander in his home country, combining the skills learned from his father, his father's mentor Tung Fu Rue, and abilities gained from the streets.
A decade later, the crime lord Geese Howard organized a tournament, dubbed The King of Fighters. Terry, Andy and Muay Thai Kickboxing champion Joe Higashi would enter with the purpose of facing Geese. The battle that followed would eventually see Terry defeating Geese, and for some time, it was thought that Geese perished in the battle. The next year saw Geese's half-brother Wolfgang Krauser take control of The King of Fighters, and bringing the once Southtown-only tournament onto the world stage. The finals of this new tournament would again see Terry fighting the sponsor and him ultimately defeating Krauser. During this event, he befriended many of the contestants and became a hero of Southtown.
Some time later it was revealed that Geese had survived his encounter with Terry. The Bogards and friends learned of Geese's intentions to retrieve the legendary Jin scrolls, Terry once again challenged and defeated him. Afterwards, Geese fled. Terry faced Yamazaki, then challenged the Jin brothers. Standing now as the victor, Terry once again was the champion. However, Geese had escaped with the scrolls. During the next tournament, Terry managed to get all the way through the tournament to Geese for one final conflict. At the end of the fight, he knocked Geese off the edge of Geese Tower, but grabbed hold of Geese's hand and tried to keep him from falling. But this was not to be, as Geese knocked Terry's hand away, plummeting to what is believed to be his permanent death.