Name: Medusa
Sex: Female
Species: Naga
Height: being a snake humanoid there isnt really one but she generally rests at 5'6 or so.
Weight:Between 450 lbs and 500 lbs
Age: Unknown
Age in appearance: 25
Hair Color: Rich Blue
Eye Color: Emerald green
Skin Color: Fine cream
Personality: She is a generally gentle creature, sweet and shy with people. But bubbly when shes happy. if tipped to far her personality can have a double edge, due to her past she has a deeply hidden split personality.
Weakness: She hates pain, although she can tough it out, but fear of her loved ones being hurt will drive her to do anything and everything.
Profession: Seeamstress and Shop Owner of Unusual Cuts with Bakkar.
Weapons: Claws and Tail
Armor: Natural armor
Items: A locket that is magically connected to her life.
Skills: Business - Skilled at running or aquiring businesses, and making them profitable. +1 CS to reasoning.
Tailoring - Knows how to make the latest fashions. +1 CS to reasoning.
Mystic and Occult Lore - +1 CS to reasoning for researching or understanding magic anddemonic or angelic histories, including telling which is truth and which is fiction.
Blunt Weapons - +1 CS to Fighting.
Sharp Weapons - +1 CS to Fighting
Picture: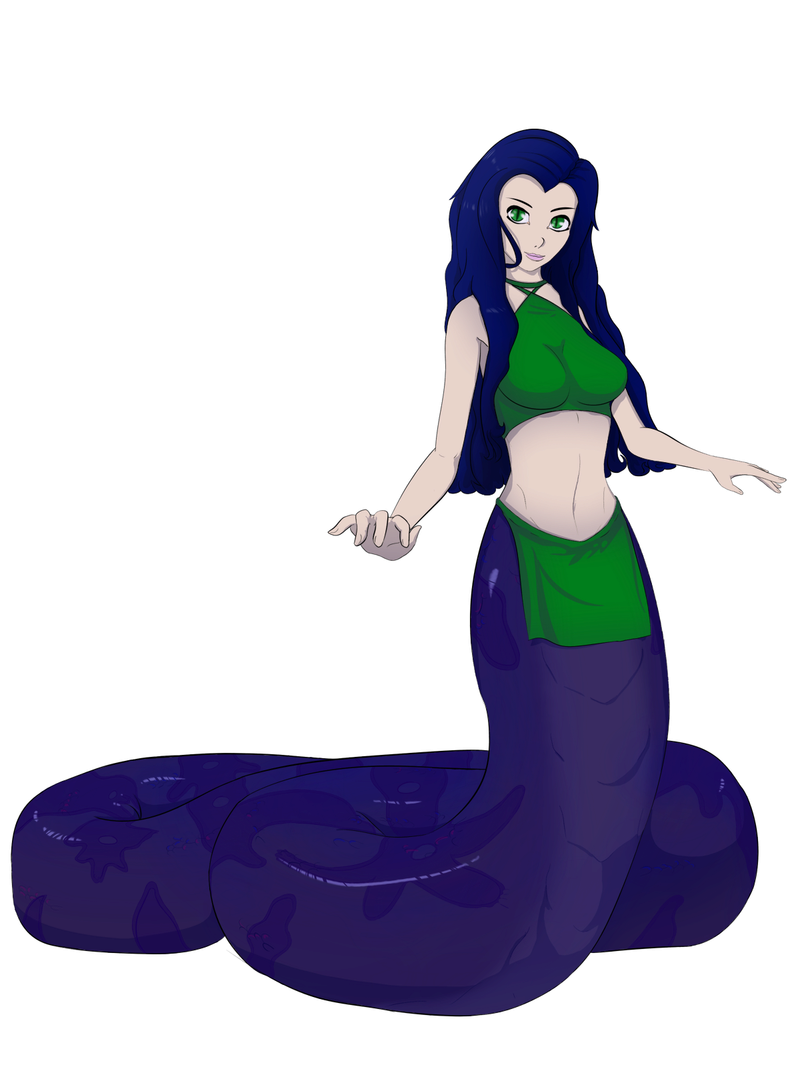 Stats:
Fighting: Excellent
Agility: Amazing
Strength: Excellent
Endurance: Excellent
Reasoning: Good
Intuition: Good
Psyche: Remarkable Magic Ability
OPTIONAL: Only include this section if it is different then normal
Swimming Speed - Amazing
Hit Points: 110
Mana: 30
Spells / Special Abilities:
Ancient Knowledge 1
Cost: N/A
Uses: N/A
Requirements: GM Approval
Description: This being has a connection to the magical world around them. Gains 1mp per minute or round of combat.
Affinity Darkness
Dark Portal
Cost: 10/20/30MP Same World / Different World / Different Plane
Uses: Psyche if needed
Description: Creates a swirling hole through the plane of Darkness that allows people to ravel to a new location that the caster has been do before. At third circle the caster can take people anywhere on their current world. At fifth circle it can take people to other worlds. Six circle can take them to other planes ( Limbo, for example ).
Curses and Blessings: Depending on which side she chooses she is very adept at casting evil curses or pure blessings on a person, this can range from minor ticks like constantly tripping, to something as severe as major diseases. Or always finding the good in life to banishing curses.
Sacrifice: A self taught ability, when she loves someone enough she can pull the dark or the hurt and pain from someone into herself and take it on herself. Leaving the person healed and free.
Biography: All history has been given in Fantasy.
--