Name: Darku Xafel
Sex: Female
Species: Altered Human
Height: 6'2
Weight: 185 lbs.
Age: 24
Age in appearance: Same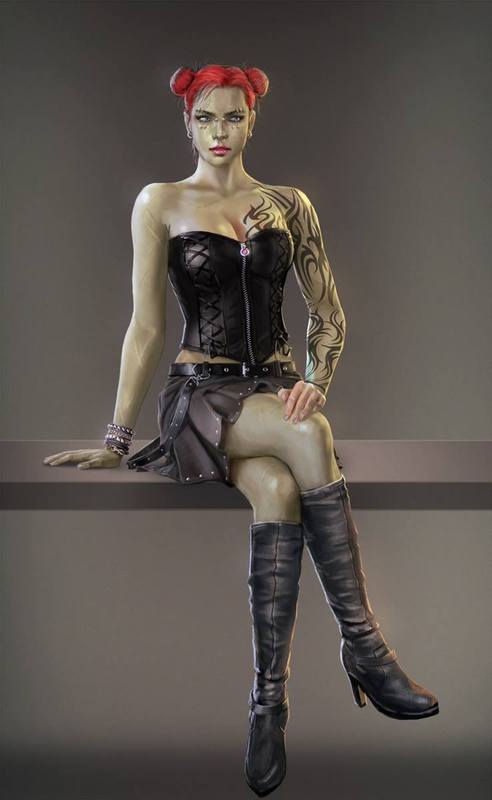 Hair Color: Rose petal Pink
Eye Color: Grey
Skin Color: Sun kissed tanned
Personality: She is genereally light hearted, loves a good fight and is very protective of her family. If she is sparring with someone she wont go easy on them, its all or nothing or you dont learn is her belief. She enjoys food and lovely clothing.
Weakness: Loosing the only person who has been her family for the past few years. Hinoe.
Profession: She is a tattoist and body piercer. She even owns her own shop.
Weapons: Two Sai's and a book of Shadows
Armor: Shin guards, arm greeves and her corset
Items: Nothing special at the moment
Skills: Weapons Specialist ( Sai ), Tracker, Leadership, Investigation, Reconaissance, Acrobatics, Tumbling
Stats:
Fighting: Excellent
Agility: Remarkable
Strength: Good
Endurance: Remarkable
Reasoning: Good
Intuition: Remarkable
Psyche: Excellent
HP: 90
MP: 60
Spells / Special Abilites:
Steelmind
Cost: N/A
Uses: Psyche
Description: This character has either been trained against terrifying sights, or has just been through such evils nothing anyone can do to them can frighten them. They are virtually immune to the Fear effect, taking 1 level less effect from any fear ability. ( Example: If a spell is to fear them round one, then results in -2 to rolls round two, then -1 to rolls round three, they skip the fear and only suffer a -2 to rolls in round one, then -1 to rolls in round two. )
Special Conditions:
1. A fear roll of 100 or a player roll of 1 negates this ability.
Biography: to come soon